Account Activation
Step 1: Go to tokenizemalaysia.com

Step 2: Click on the 'Get Started' button at the top right corner of the page.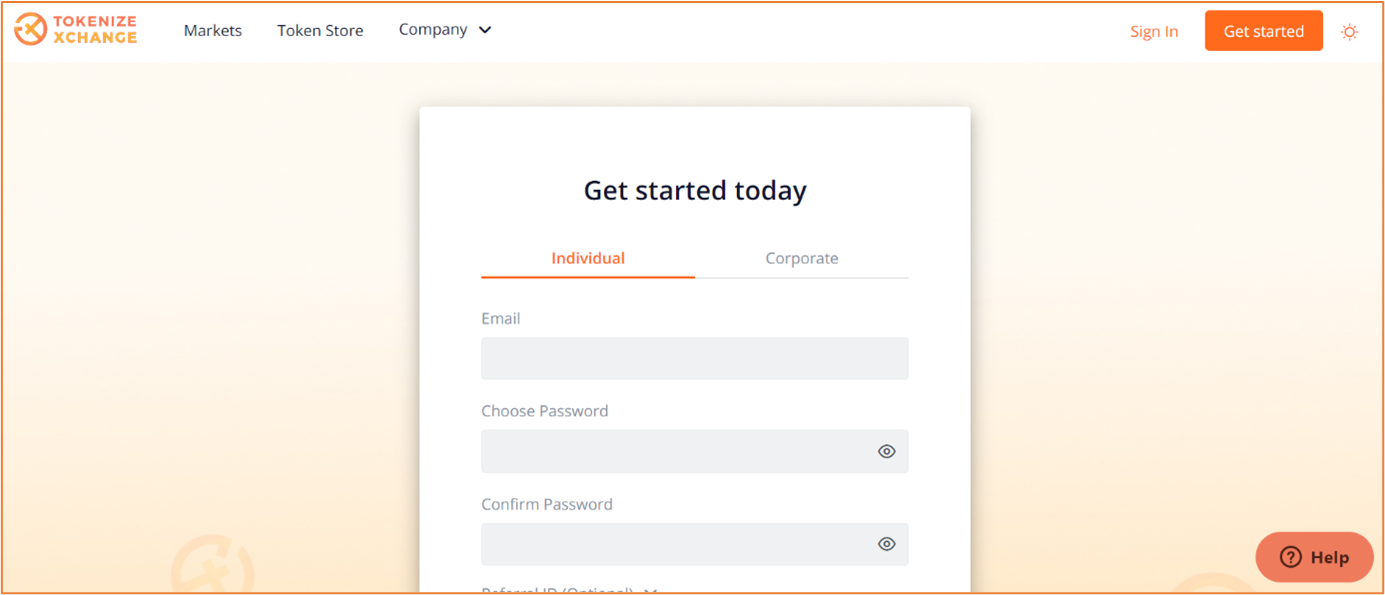 Step 3: Choose 'Corporate' as the Account Type and fill in your details. Users are encouraged to use the official company email and not a personal email. Once done, click 'Sign Up'.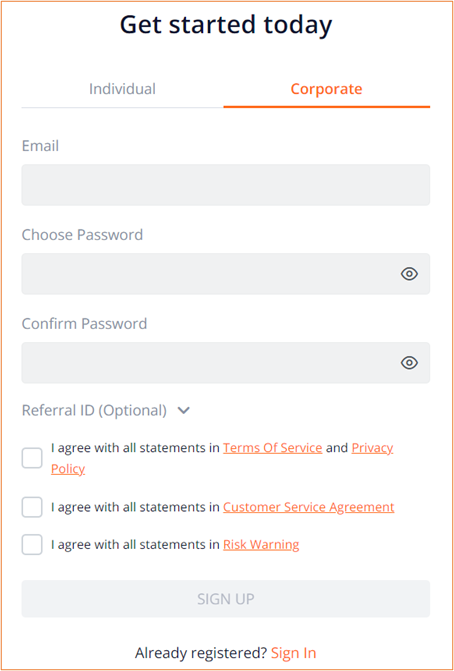 For the verification process, you will be requested to provide information and documents related to your company. Please click 'Confirm' to proceed with corporate account sign up.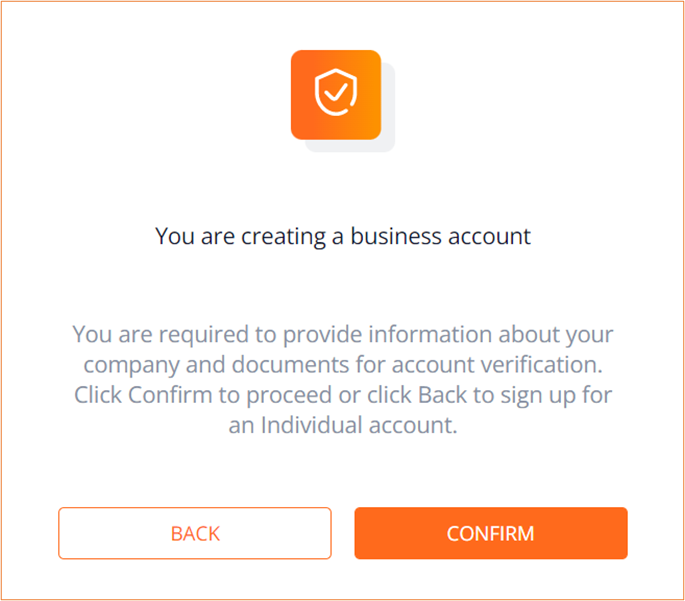 Step 4: You will receive an email in your inbox with the verification link. If you do not receive it within 5 minutes, please check the Spam or Junk folder of your email. Click on the 'Activate Account' button to verify your email address.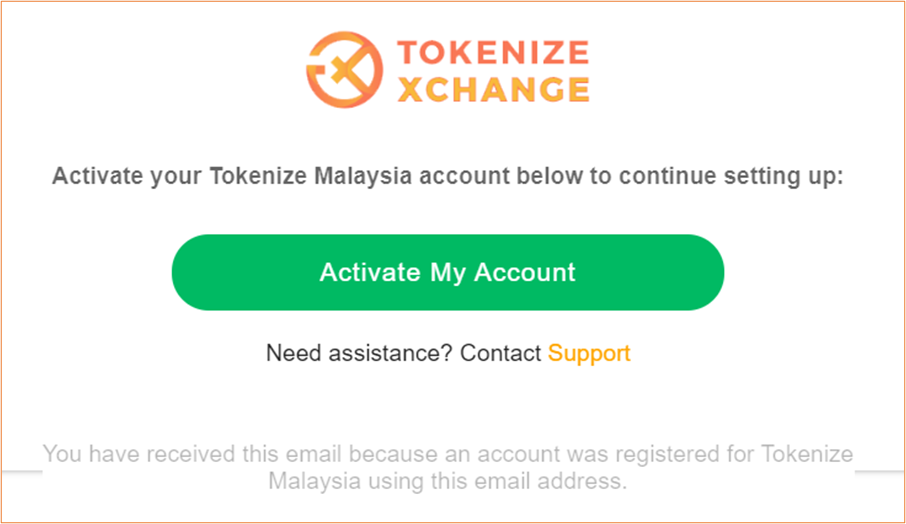 And you are done with the account registration! Next, log in to complete your company information and verify your business.
Business Verification
Once you have successfully signed up and verified your email address, follow the steps below to verify your business. You will be directed to the Business Verification page after your first sign in.
Step 1: Submit your company information.
Step 2: Upload the required documents as listed below.
Memorandum of Association & Articles of Association (all pages) with Certified True Copy (CTC)
Certificate of Incorporation/ SSM/Labuan FSA
Register of Shareholders (SSM Register of Shareholder Form)(Form 24/Section 78/Section 51/Form 13 Labuan Act) with Certified True Copy (CTC)
Register of Directors (Form 49/SSM Register of Directors Form/Section 58/Form 25 Labuan Act) with Certified True Copy (CTC)
Identification for all Directors (as for Administrator) - NRIC (Malaysian) or Passport and work permit/visa (non-Malaysian)
Identification for all Shareholders owning over 25% (as for Administrator) - NRIC (Malaysian) or Passport and work permit/visa (non-Malaysian)
Recent Utility Bill, Rental Agreement (with Lawyer/Commissioner of Oath Sign) or similar as evidence your Business operating address (Business POA)
Business Bank Statement showing all transactions and at least last 4 digits of account number with company address
If your Company is involved in providing and e-wallet or making payments on behalf of customers, we also need to see relevant licence details and your AML/CTF Policy
Latest Audited accounts if relevant, otherwise up to date Management Accounts (Financial projections if business is not yet trading) with Auditor & Directors' Sign
Board resolution on authorised person handling trade and purpose of trade with Certified True Copy (CTC)
Directors and shareholder(s)' Proof of Address
Credit report consent form of directors and shareholder(s) (will be requested manually via email)
Credit report consent form for company (will be requested manually via email)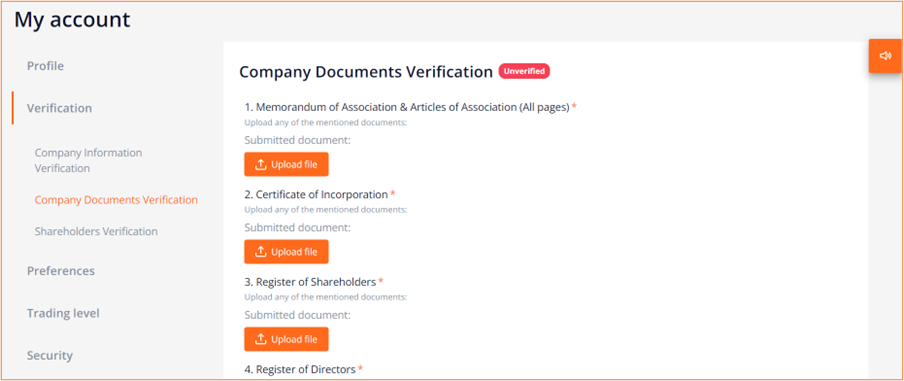 All submitted documents for your verification have to be uploaded in Full Colour and High Resolution. These requirements are needed to ensure we can view your details for your account's evaluation.
Step 3: Next, click 'Shareholders Verification' and submit your company's shareholder information.
Enter the name of your company's shareholder(s).
Please upload the front & backcopy of the NRIC (for Malaysian) or the information page of the passport (for non-Malaysian).
For Proof of Address, we accept the full-page, scanned copy of only the following documents: utility bill, bank statement, cable bill, or cell phone bill.
The bill must be dated within the last 3 months.
The shareholder(s)' name and address must be clearly shown.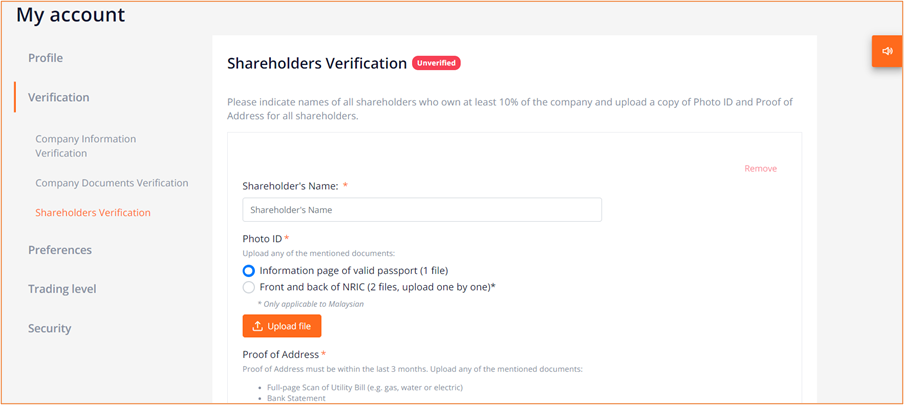 Step 4: Click 'Save' to complete your registration.
Once all the steps are complete, please allow up to 3 working days for your account to be verified. Successful verification or request of insufficient document will be notified via an email.